Vector Split

This function block can be used to split a vector into its sub elements.
The maximum number of elements that can be accessed in this way is 16.
Parameters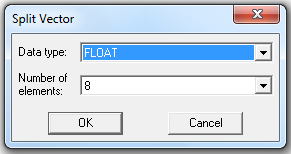 The parameter dialog can used to select the data type and the number of elements.
Signals
| Name | I/O | Type(s) | Function |
| --- | --- | --- | --- |
| X | I | Data type independent | Input vector |
| Y0 | O | Data type independent | Output value |
| ... | | | |
| Y15 | O | Data type independent | Output value |
Visualisierung
Der Baustein ändert seine Größe entsprechend der Anzahl der Elemente.
Bemerkungen
Wenn keine Verbindungen bestehen, kann durch die Beschaltung des Einganges ein anderer Datentyp für den Baustein gesetzt werden.
Wird der Datentyp mittels des Parameterdialogs gewechselt, werden ungültige Verbindungen am Eingang bzw. an den Ausgängen verworfen.
Beispiel
Das folgende Beispiel zeigt, wie ein BIT-Vektor in einen WORD-Wert konvertiert und dieser Wert wieder in einen BIT-Vektor umgewandelt wird. Dieser Vektor wird dann in seine Einzelelemente zerlegt und diese dargestellt.